Written by Kevin
Current as of December 7th, 2023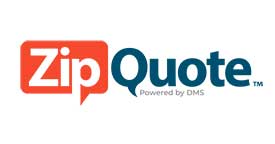 ZipQuote, a San Diego-based Internet lead generation company, has remained one of the top insurance lead providers since founded in 2008. The company was acquired in 2019 by lead generation powerhouse, Digital Media Solutions (DMS) adding additional lead volume through their financial content and traffic channels.
Over the past few years, ZipQuote has invested its resources into its agents' experience with their platform, making it easy to change schedule, volume, filters, and more.
ZipQuote currently offers web leads and live call transfers specializing in Auto & Home product lines.
Using proprietary technology to acquire and filter leads, ZipQuote is able to capture consumers at the peak of their interest.
ZipQuote Lead Performance
42% lower cost per policy than industry average*
14% higher written premium than industry average*
28% higher quote rate than industry average*
76% higher policy rate than industry average*
*Source -ZipQuote proprietary customer data
Feature List
Original Source Vendor
Agent-Centric Distribution
Real-Time Delivery
Sample Leads Available
Quality Scoring & Advanced, Custom Filters
No Affiliate or Incentivized Leads
Account Pause & Volume Controls
Account Pause & Volume Controls
Exclusive Leads Available
Lead Return Options
Free Account Optimization
Types of Leads Available
Delivery Options
Email
Text
Live Transfer
CRM / Rater / Dialer
Custom Integrations
Related Services