Written by Kevin
Current as of December 7th, 2023
SmartFinancial Agents is an Ohio based insurance lead provider founded by industry veteran Lev Barinskiy. Lev is a former agency owner who went on to co-found InsuranceAgents.com (Acquired by BankRate in 2012).
With years of experience and some time to analyze the market, Lev started building a platform to reach all insurance prospects with a distinct focus on the growing mobile consumer base.
When SmartFinancial Agents was first profiled here at InsuranceLeadReviews, the company focused solely on their flagship Calls (QuoteCalls) product for the Auto market eventually expanding into additional P&C lines. The launch was a success and it wasn't long before buyers were asking for more.
Today the company has grown to offer an impressive selection of lines for real-time insurance leads via traditional delivery methods in addition to live calls.
How are SmartFinancial Calls Different?
From a lead buyer perspective SmartFinancial offers most of the features offered by their shared lead counterparts including highly customizable filters, delivery schedule, volume controls, CRM/LMS/Rater integration and a comprehensive online dashboard.
The biggest difference is that lead buyers get a truly exclusive lead product offering a 100% Guaranteed contact rate.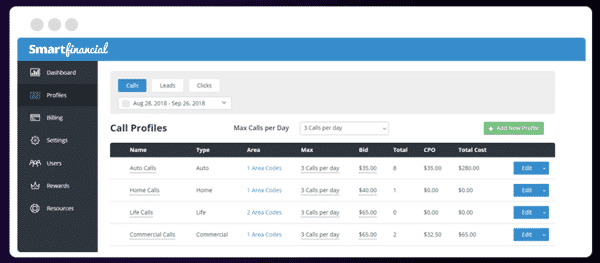 How Does The Call Process Work?
SmartFinancial has implemented a lead acquisition funnel that ensures high intent with a focus on search traffic. Below are the steps a typical prospect would make to become a Call lead.
Consumer searches online for an insurance quote.
Navigates to a SmartFinancial insurance comparison website such as SmartFinancial.com or UnitedStatesInsurance.com.
 A "Click to Call" request is made on the website via mobile phone or a call is dialed manually.
Call is received by a SmartFinancial rep to verify the prospect is interested in an insurance quote.
Prospect is matched with a lead buyer based on location and filters in real-time by the SmartFinancial system.
Call is connected with a matching agent to complete the request for quote.
What Call Buyers Should Expect?
SmartFinancial call leads are different from most solutions listed on ILR as they are an exclusive lead product versus a shared lead sold to more than one buyer. This is a detail that is important to keep in mind when comparing other lead vendor reviews.
As an exclusive lead with a 100% contact rate the cost structure is a notable difference from a shared lead service. Call buyers can expect lead prices in the $25 (Auto) to $45 range based on product line and options.
With the addition of traditional shared lead delivery methods, SmartFinancial lead buyers can now diversify product lines and delivery.  A change that has transitioned the company from a niche service to a viable full stack lead vendor.
Adding to that, SmartFinancial is currently offering ILR readers a discount promotion of up to 60% off regular price on all leads. To get this deal visit the special offer page here or ask for it by phone at 213-340-2802.
More product details below.
Feature List
Now Offering Real-Time Web Leads
100% Contact Rate Guarantee With Calls
Dedicated Account Manager For Every Account.
100% Exclusive Inbound Calls
Platform Taps Into the Rapidly Expanding Mobile Audience
Highly Customizable Interface – set operating hours, concurrency caps, bids, transfer numbers, filters, geo targeting
Call Recordings – see what calls convert into quotes and policies sold. Monitor staff performance
Reporting – easily track and analyze lead and call traffic to measure ROI
Control Lead and Call Volume – on-demand system, allows to set minimums and maximums of leads and calls received daily
Ability to Pause Account as Needed
Agent-Friendly 14 Day Lead Return Policy
No Contracts, Pay As You Go
Volume Discounts Available
Types of Leads
Auto Insurance Leads
Home Insurance Leads
Health Insurance Leads
Medicare Leads
Delivery Options
Live Call
Email
Text
CRM / Rater / Dialer
Online Account
Custom Integrations
Special Offers
Phone
213-340-2802
Related Services