Written by Kevin
Current as of April 25th, 2017
NextGen Leads is a San Diego-based health insurance lead provider founded in 2014. The company is led by industry veterans, with agency ownership experience, who started the business to offer a better product than what they experienced as lead buyers themselves. A vision that was built with a focus on technology, lead quality, service and pricing transparency.
NextGen currently offers real-time Individual Health and Medicare Supplement leads with plans to expand into Auto, Life, Group Health and Final Expense in 2016. Customers have the option of buying real-time shared, exclusive or live transfer leads.
What Makes NextGen Leads Different?
Let's take a look at how NextGen is different so you can decide if they are a fit for your needs.
Technology
Upon entering the insurance lead market, the NextGen team hired lead industry technology and marketing experts to build a feature-rich marketplace. The result is a platform that leverages the efficiencies of modern tech and a feature set that rivals any other in the industry. Below is a screenshot of NextGen's intuitive and easy to navigate user interface.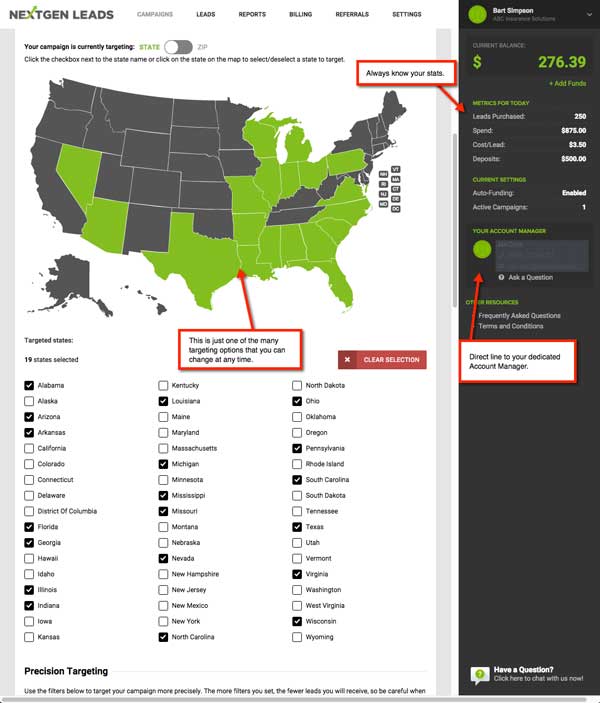 Lead Quality
NextGen utilizes its technology and data-driven advertising platform to generate leads in-house without the aid of affiliate traffic. A model that gives the company end-to-end quality control of the lead generation and delivery process.
Pricing Transparency
NextGen's transparent pricing model has been a welcome addition among buyers that I have encountered. All leads enter the marketplace with a low starting minimum price and realize a final market value based on a demand side bidding model. Over time, prices will equalize based on market conditions, but as a newer marketplace prices are currently below market average on a regular basis.

When I asked about the pricing model NextGen CEO, Chris Kelly shared the following,
"We use a second price auction model, just like Google and eBay. That means you never overpay for a single lead because we reduce your price to $0.01 over the next highest bidder no matter how high you bid, even in shared auctions.

Exclusive Lead Example: Buyer A bids $15 and Buyer B bids $10. Buyer A wins the lead, but only pays $10.01 for the lead, since this is the minimum price necessary to win the auction.

We even do this in Shared lead auctions. Notice how bidder #3 only paid $4.04 for the lead even though they bid $12 (this is from a real auction)." Screenshot below.

I've included a sample health lead as well as a list of the top features offered by NextGen Leads below. Additionally, ILR readers can secure a $150 Free Lead promotion by visiting this special offer page.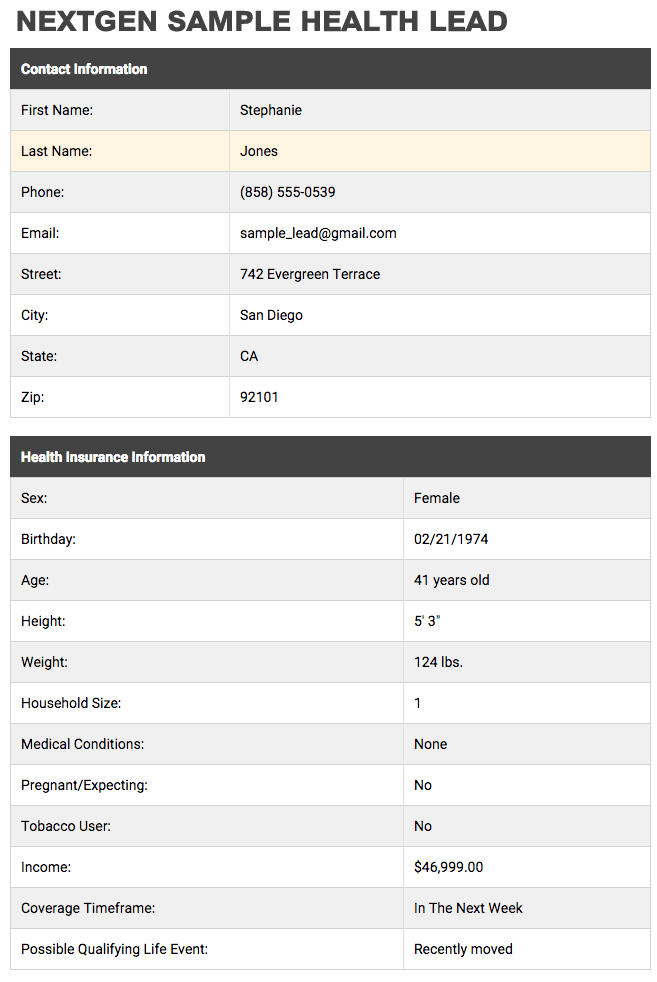 Feature List
Real-Time Delivery
Shared, Exclusive and Live Call Leads
Average of 2 Agents per Shared Lead, 5 Max
In-House Lead Generation. No Affiliate Traffic
Full Control of Campaigns, Higher-Quality Leads
Custom Lead Targeting with Filters and Controls
Data and Technology Driven Lead Generation
Pause Lead Flow at Any Time (Unlimited)
LeadID Integrated
Transparent Bid Based Lead Pricing
Service & Customer Care Focused Provider
Dedicated Account Manager
Easy Returns for Non-Valid Leads
Training and Advice Available for All Experience Levels
Simple Buyer and Lead Management Interface
One-Click CRM / Dialer / Rater Integration
Custom Integrations Available
Types of Leads
Health
Medicare Supplement
Coming in 2016 – Auto, Life, Group Health, Final Expense
Delivery Options
Email
CRM / Rater / Dialer
Text
Custom Integrations
Special Offers
Phone
1-858-703-6018
Related Services