Written by Kevin
Current as of March 30th, 2023
Benepath is a Pennsylvania based insurance lead company offering exclusive web leads, calls and aged leads. The company, founded by insurance veteran Clelland Green, started offering exclusive health insurance leads in 2008. Since that time, Benepath has added Medicare Supplement, Group Health, Medicare Advantage, Life and Commercial lines.
Benepath is the first company listed on Insurance Lead Reviews that does not offer shared leads.
For those of you wondering why more exclusive lead providers aren't listed, it is merely a matter of personal experience.
A high-quality exclusive lead source is like gold. While I've found most exclusive lead companies to be inconsistent or short lived, Benepath is genuinely a unique exception with a remarkable history of generating premium leads.
Benepath has been in business as long as any of the shared lead companies listed here which speaks volumes to their expertise and customer service.
The company is best known for their exclusive Medicare and Health leads so let's start by looking at what a lead buyer can expect.
How Are Benepath Exclusive Leads Different From Shared Leads?
Exclusive web leads are sold to only one buyer versus as many as five or more buyers with shared leads. The end product is similar, but there are some distinct differences to consider.
Lead Generation
Benepath generates their own leads primarily from paid search traffic which is the best source of incoming traffic for web leads with the consumer initiating the connection. Utilizing search traffic is consistent with the top shared lead providers as well although shared lead companies are likely to incorporate more interruption based advertising to generate the volume of leads needed for their business model.
Service Agreements
Most shared lead providers today will sell leads with no ongoing contract required. While this is preferred when buying shared leads, exclusive lead companies typically require an upfront contract. Benepath customers start with a simple four-week agreement with no ongoing commitment.
The reason initial contracts are standard with exclusive lead vendors is a notable distinction from buying shared leads.
A quality exclusive lead service provides a more personalized and tailored lead campaign. For example, when a new customer signs up with Benepath, a custom search campaign is created for their desired territory.
With regards to service agreements, I find digital marketing agencies and custom telemarketing lead generation campaigns to be a better comparison.
Working Leads
When it comes to working exclusive web leads the same rules apply as shared leads. Speed of response is the most important conversion factor.
Response time has less to do with competing with other producers as much as contacting your prospect while they still have insurance needs at the front of their mind.
With exclusive web leads going to only one buyer, Benepath took advantage of the opportunity to personalize the shopping experience. After an insurance consumer submits a quote request, Benepath directs the user to a custom landing page with an agent profile and contact details of the lead buyer.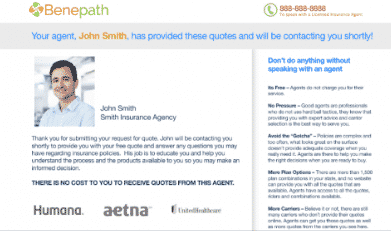 Benepath's custom agent landing page can also be populated with an instant quote if the buyer is using an insurance software such as Quotit or Broker Office.
As you might expect, immediately providing the consumer with contact information and an expectation of who will be getting in touch has a tremendous impact on the contact rate. Benepath states that buyers who follow their best practices have a 75% contact rate on average.


Pausing and Scheduling
Shared lead services can offer more lead pausing and scheduling options in comparison to custom lead generation campaigns from an exclusive lead provider.
With that said, Benepath does offer customers lead pausing up to 14 days per year and scheduling flexibility Monday through Friday from 7 am to 11 pm and overflow for overnights and weekends.
Lead Returns
Benepath offers a lead return policy in-line with shared lead companies. Return requests are required within three weeks of delivery. Returns are allowed for disconnected phone numbers, names that do not match submitted information, non-English speaking and fax lines.
How Much Do Benepath Exclusive Leads Cost?
The majority of the questions I receive from readers have something to do with lead pricing. As much as I wish each provider had an exact price menu, it just doesn't work that way.
Location and desired volume play a significant role in the price lead companies can offer. This is especially true when it comes to exclusive leads.
For readers that are accustomed to buying shared leads it is important to note that exclusive leads do have a higher price point, typically ranging from $20-100+.
Price is always relative to lead quality and conversion rate, so it's essential to test to determine value.
The current product price chart posted below. Exclusive Medicare Leads start at $19.95.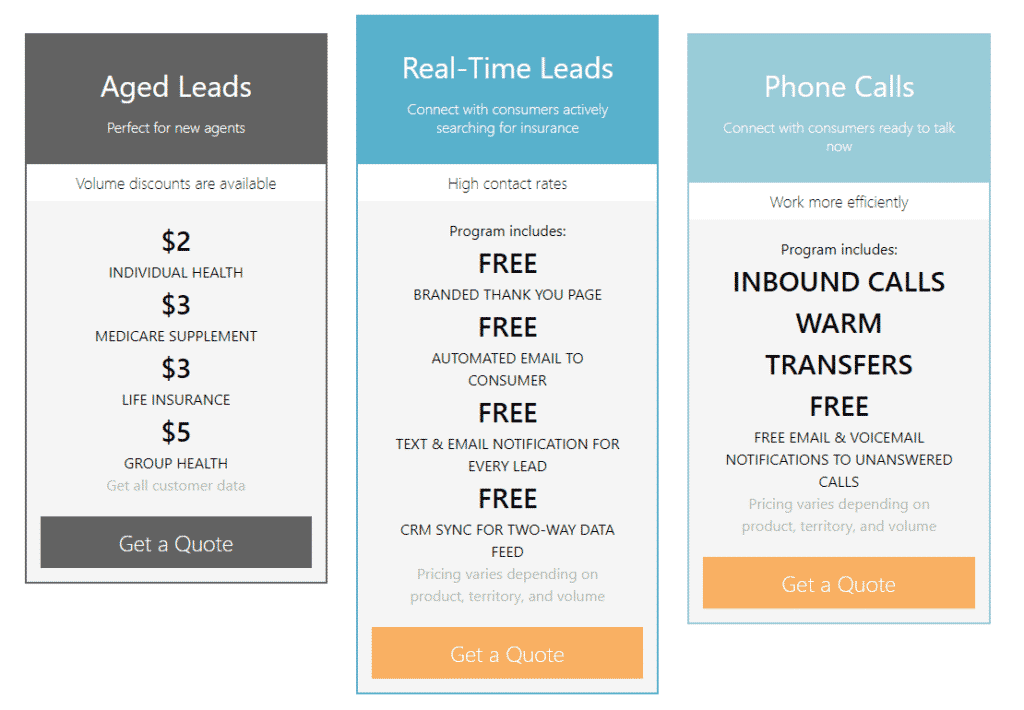 Benepath Aged Leads
Aged leads are another product that Benepath offers that you won't find with most shared lead providers.
Benepath aged leads are leads that came through without a lead buyer available at the time and are available for Health, Med Supp, Group Health, and Life product lines.
Aged leads are an excellent starting point for new producers that are still tuning their sales technique and follow up schedule.
Benepath aged leads are the definition of a premium aged lead as they are generated from the same premium traffic sources as their exclusive leads.
Benepath Phone Calls
Benepath also offers exclusive phone call leads which are comparable to related call services popular among shared lead companies. Calls are delivered via warm transfer and inbound call with email and voice mail notification for unanswered calls.
Feature List
Search Generated Exclusive Leads
Exclusive Phone Calls
Premium Aged Leads
Agent Branded Thank You Page
Pause and Scheduling Options
Expert Support
CRM Integrations and 2-Way Datafeed Sync
Lead Return Options – 3 Weeks From Delivery
Types of Leads
Medicare Supplement
Health
Group Health
Life
Commercial
Delivery Options
Email
Live Transfer Calls
Text
CRM Sync
Special Offers
Phone
1-877-673-5068