Written by Kevin
Current as of September 28th, 2023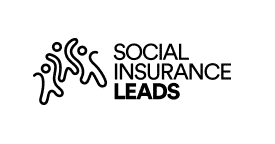 Social Insurance Leads (SIL) generates exclusive sales leads for insurance agents through social media channels. The company leverages tested methods to target the desired audience primarily on the Facebook platform. All insurance leads are 100% exclusive and delivered to the buyer as they come in. The company states that incentives, tricky questions, and gimmicks are not used to generate leads.
With billions of active social media users today, Social Insurance Leads has made a focused effort to hone their marketing skills fully on social traffic for lead generation. These efforts have been especially effective with senior market product lines such as final expense and medicare.
Note:
In response to reader requests, Insurance Lead Reviews is expanding lead vendor coverage beyond the traditionally posted high volume, shared lead services. It is important to note that there are differences to consider.
Shared lead providers typically leverage a sizable amount of search generated traffic. User-initiated search traffic is generally lower down the conversion funnel and thus higher converting.
Social media leads are marketer initiated and are near the top of the conversion funnel, in most cases. They are less expensive than search generated exclusive leads. Buyers of social media generated leads should factor a longer conversion and sales process.
Each lead type has its own place and benefits in a diversified marketing approach and I recommend producers test as many options as possible. That said, it is important to note the differences and understand it is not an apples to apples product comparison. Setting proper expectations is key to working leads with success.
Social Insurance Leads customers have the option to place quantity based orders of final expense leads (25 or 50-mile radius), Spanish final expense leads, Medicare leads, estate planning leads and agent recruiting leads.
Thousands of people in the US turn 65 each day, and there are plenty of these leads available on social media to market with advanced targeting options. Social Insurance Leads leverages their marketing skills and social media expertise to convert this traffic into leads interested in a Final Expense quote without implementing deceptive techniques.
Leads generated by Social Insurance Leads go through a double verification process prior to delivery. In some instances, Social Insurance Leads uses a combination of a free will kit, along with a burial plan and readiness review for life insurance to generate leads.
Common Questions
Does Social Insurance Leads have a minimum order quantity?
Yes. All lead types have a minimum order of 20 leads.
Are Social Insurance Leads sold to more than one buyer?
No. All leads are exclusive.
Does Social Insurance Leads allow returns for bogus leads?
Yes
Does Social Insurance Leads offer leads live call transfer?
No. Leads are delivered as they come in and are available as a .csv download.
What is the cost of leads from Social Insurance Leads?
Lead costs vary by line. Promotions and order volume many also impact lead pricing.
General price expectations for exclusive leads from Social Insurance Leads are as follows:
Final Expense (25 Mile Radius) – ~$30/lead
Final Expense (50 Mile Radius) – ~$20/lead
Medicare – ~$35/lead
Estate Planning – ~$35/lead
Agent Recruiting – ~$15/lead
Additional Details
Highlights
Double Verification
Exclusive Leads
Leads Are Not Resold
Delivery As Soon As 24 Hours From Order
Receive Leads As They Come In
Choose Your Desired Location
Coverage Area
US Nationwide
Lead Type
Exclusive (Data)
Lead Freshness
Near Real-Time
Lead Generation Method
Social Media
Types of Leads
Final Expense (25 Mile Radius)
Final Expense (50 Mile Radius)
Final Expense (Spanish)
Agent Recruiting
Estate Planning
Related Services