Written by Kevin
Current as of June 8th, 2023
**********
Note: Someone with the same IP address continues to post very positive (fake) review
comments and recommendation votes for this Parasol listing. Make of that what you will.
**********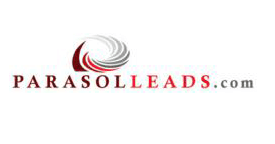 By offering exclusive leads to insurance agents, ParasolLeads has found its niche in the lead industry.
According to the company's website, their agents close roughly 40% of the insurance sales leads that they purchase. With a closing rate like that it is easy to see why lead buyers would be interested.
Update: Since this profile was originally published the 40% close rate is no longer posted on the site. I was unable to find any information to back up this incredible claim. It is unclear if producers are still closing Parasol leads at a 40% rate today. Based on numerous emails and reader comments submitted to ILR it seems unlikely.
Here are a few features of Parasol Leads:
100% exclusive insurance leads, generated through organic search traffic.
Lead filters and geo-targeting available.
No contract, sign-up fee, or minimum purchase required.
Lead caps. This feature allows agents to put a daily number on the amount of leads they want to purchase. Additionally, agents can use an "on/off" switch to ensure that they only receive leads when they need them.
Types of Leads
Related Services