Written by Kevin
Current as of December 7th, 2023
Insurance lead vendors similar to InsuranceLeads:
QuoteWizard, HometownQuotes, NextGen Leads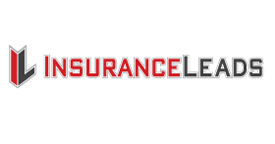 With a name like InsuranceLeads.com, it is easy to understand why this company is able to attract attract a sizable audience of lead buyers. A large selection of product lines, combined with geography and risk filters equate to a solid combination for the company.
InsuranceLeads offers the following benefits:
No contract or minimum purchase requirements
24/7 access to your online account
Plenty of customization options
In addition to the use of filters, InsuranceLeads.com offers the ability to purchase leads based on predefined categories. For example, auto insurance leads are offered by the following types: custom auto, premium plus auto, premium auto, preferred auto, specialty auto, standard plus auto, standard auto, and juvenile auto.
With carrier exclusive leads that are sold to between two and four insurance agents on average, competition is kept to a minimum.
Custom options with InsuranceLeads are premium offerings that allow buyers upgrade and eliminate some or all of the upfront time requirements with real-time leads. Some examples include Qualified Prospect Leads and Calls. Qualified prospects are per-verified via phone to ensure the shopper is interested in a quote and would like to talk to an agent. Calls take the verification process even further by initiating a live transfer to the buyer offering an exclusive lead with a 100% contact rate.
Below is a sample of base and upgrade options at InsuranceLeads: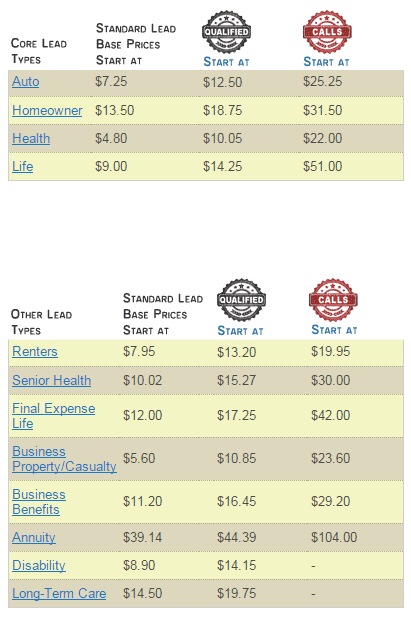 Note: Pricing subject to change.
Feature List
Real-Time Delivery
Share Leads – Max Agents 5
Exclusive Lead Options (via Live Transfer Calls)
Live Transfers Available
Pause Leads
Set Daily Volume Caps
No Contracts Required
Sample Leads Available
Free Training Tools & Webinars
Pre-Set Standard Filters
Custom Filter Options
Lead Returns – 10 Day Return Window
Phone Qualified Leads Option
Premium Channel Leads Option
Premium Service Plan Available
Volume Discounts Available
Types of Leads
Annuity
Business Benefits
Cancer
Disability
Final Expense
Group Health
Long Term Care
Mortgage Protection
Senior
Delivery Options
Email
Text
Live Transfer Call
CRM / Rater / Dailer
Custom Integrations Available
Related Services